Tadaam! 🎉 The long awaited Stall Catchers Catchathon is BACK! Right in time to celebrate Citizen Science Month :)
Catchathon is a catching marathon of the Stall Catchers citizen science game. Anyone can hold one in their local pub, school, library, hackerspace or anywhere else! (Although it's gotta be fully online these days..!)
We really missed big Stall Catchers competitions - and that amazing feeling when people from all around the world join together at the same time to do something about stopping Alzheimer's! Did you miss catchathons too?! :)
This year we are holding the Catchathon during the Citizen Science Month. The event will take place:
17:00GMT (1pm ET) April 28 - 17:00GMT (1pm ET) April 29
With kick off and final hour hangouts LIVE on Zoom!
---
How to participate?
If you'd like to participate in this year's catchathon, please sign up your team here: bit.ly/Catchathon2021, or below:
We will send you all the info on how to join, depending on the type of participant you are.
Or just show up on Stall Catchers on the day and catch!
We will have live leaderboards on the site to track the competition, and post periodic updates here on the blog.
Who can participate?
Everyone, of course! We encourage teams and individual catchers to join from all over the world. 🌎🌍🌏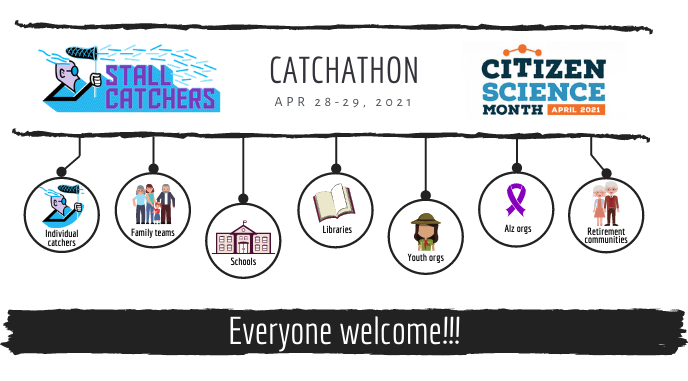 If you are a library, school, retirement community or an Alzheimer's club, we prepared special joining instructions just for you - you'll receive them in the mail once you sign up here. You can also always contact us at info [at] stallcatchers [dot] com, if you have any questions!
And if you're new to Stall Catchers, here's a short video intro:
---
Follow the news here on the blog and on our social media, and see you on April 28! 💜

---